Lilly van de Hippe kip Highland fold bij ons geboren op 29-4-2017. Moeder Gr.Euro.G.Int.Ch Molfar Jessika Highland fold Red silver and white en Vader Gr.Euro.G int Ch. Yes it is a kind of magic Brits langhaar blue. Lilly komt uit een nest van 6 kittens 2 broertjes en 3 zusjes. We hebben voor Lilly gekozen vanwege haar mooie kleuren patroon Black torbie & white en om haar mooie grote ogen. Lilly is dna getest op erfelijke afwijkingen en heeft bloedgroep b/b.
Ook is er op 16-4-2018 een hielscan (röntgenfoto 's )gemaakt
.Alle foto s zijn goedgekeurd geen afwijkingen gevonden. Ook getest op Fiv en Felv.
Ze is op haar jonge leeftijd al veel belovend op katten shows werd al Kampioen in de Baby klasse en Kampioen Jeugd Ook behaalde ze altijd uitmuntend1 en vele Biv, BIS ,BOB en BOA.
wij zijn heel trots op haar. Ook onze wereld kampioen is gesloten omdat wij geen fold meer fokken.
Met succes mee naar de eerste show in Reinberg Duitsland
1e CACP-3-6 maanden int Judge Arlette Maes ze kreeg de Sonderpreis en nominatie voor best in show U1

2e CACP-3-6 maanden Stefanie Borowski ze kreeg de Sonderpreis
Later op de dag werd ze best in show U1
en ook nog Best of Best Youngstar
Wereld show in Oirschot Leslie Wal 29-10-2017 uitmuntend 1
Veel belovende dame
3e prijs in kitten ring


Best in Variëteit en nominatie best in show
Panningen Limbra cat Astrid de Bruijn Poesje met de X – Factor
U1 en voorgedragen voor BIS

1e CAC-J Erkrath Duitsland 18-11-2017 UCC E.V Serg Zheegulin Ex 1 My Beauty nomineert BIS
BIS en BOB
4e in WCF kitten ring tot 10 maanden
2e CAC-J J. Geelen 18-11-2017 Prachtig poesje
3e CAC-J M-C Lemaigre Erkrath 19-11-2018
Nominatie BIS BIS en Best of Best Youngstar
4e CAC-J Michael Gruhn 19-11-2017 TOLL !!
Ze is nu Junior Champion.
U1 Antwerpen 26-11-2017 Paul Moorman


5e CAC-J Stefanie Sironi 17-12-2017 Heinsberg
nominatie BIS en Best in show geworden
6e CAC-J Kitty de bruin 17-12-2018 Heinsberg
veel belovend kitten ze is nu dubbel junior Champion.
EX 1. Janny Geelen 28-1-2018 Wereld show Neocat Houten
hele mooie poes Nominatie best in show
Best in show en best in variëteit.


1e CAC Elke wijnants 11-2-2018 Turnhout BCF
Speciale prijs en 8e plaats BCF 2017
2e CAC M. Jarmuszewski 4-3-2018 Baarn
Very nice girl. 1e plaats in de ring keuring
nominatie BIS Best in show en best of best
3e CAC P. Vestjens 18-3-2018 Vlodrop
Best in variëteit en nominatie BIS.


Lilly is nu officieel Kampioen
1e CACIB Elena Butomova 28-4-2018 Arlon
Ex1
2e CACIB Jelena Lavrentyeva 29-4-2018 Arlon


Ex1 nominatie BIs best in show geworden en
Best of Best opposite sex .
3e CACIB Arlette Maes 2-6-2018 Aachen
nominatie BIS Best in show en speciale prijs
Lilly is nu Internatonal Champion


1e CACGIB Edina Raposa 2-6-2018 Achen
Wonderfull cat Ex 1
2e CACGIB Alina Ingor 3-6-2018 Aachen
Ex1 Show Female


3e CACGIB Florence Bajou 3-6-2018 Achen
Gans tolle katzin Ein Traum.
ring adult 2e plaats
4e CACGIB Serg zheegulin 22-6-018 Kleve
Ex 1 Splendid girl. nominatie BIS en a
best in show>
Lilly is nu officieel Great International Champion.

1e CACE Jutta Beulen 22-6-2018 Kleve
2e CACE A.M. Marien 12-8-2018 Hannut
mooie meid die dat zelf ook vind:)
3e CACE Miroslow Jarmuszewski 26-8-2018 Wattrelos
Ex1 Super nice girl speciale prijs nominatie BIS
Best in show en in de special Highland en Scottish fold en straight
op het podium met de beste 10 en geeindigd als beste poes
en 2e best special.
Nu is Lilly European Champion.


1e CAGCE Cora Sweers 9-9-2018 Rotterdam
nominatie BIS.
2e CACGE Sandra Wuytack 15-9-2018 Hamm
speciale prijs van de jury. en exl 1


3e CACGE Sven Malz 15-9-2018 Hamm
4e CACGE Donald Heyninck 16-9-2018 Hamm
Speciale prijs van de jury nomineerd voor best in show
Best in show en Best of Best
5e CACGE Barbara Langhammer 16-9-2018 Hamm
Exl 1
Lilly is nu groot europees kampioen

C.Huffschmidt 30-9-2018 neocat Hoevelaken
exl 1 en nominatie best in show
S.Malz 7-10-2018 NRKV Wassenaar
voorgedragen voor best in show en 1e in de volwassen ring

1eCACM Geneviéve Paquet-Franc (with a the beautifull words: She is like a Queen) CFB 21 oktober Visé Belgié
exelent 1 Best in Variëteit, voor gedragen best in show
best in show en best of best. en BEST GENERAL
BEST OVER ALL BOA 🙂
2eCACM L.Wal 28-oktober NLKV Sliedrecht
Prachtige dame zei de jury met veel plezier geef ik haar
een punt voor de wereld titel. Ook was lilly best in Variëteit
en had een nominatie voor best in show.

3eCACM Arlette Maes Geel belgië ze kreeg
een best in variëteit,nominatie best in show,
werd best in show en best of best
.
4eCACM Astrid de Bruijn Limbra cat Panningen
Mooi keurraport met opmerking schitterende poes.
best in variëteit,nominatie best in show,Best in show
en Best of Best.
5e CACM Florence Bajou/arlette Maes BCF Antwerpen
25-11-2018 Weer een mooi keurraport
Speciale prijs en nominatie best in show .
Ze is nu WERELD KAMPIOEN
NLKV Heinenoord 16-12-2018
2e in de Eere Klasse

19-1-2019 Europe Continent show Fleurus
Ex1 en Best in Variëteit in de special scottish / Highland Fold/Straight van de 54 deelnemers 3e beste kat. en nominatie best in show
20-1-2019 Europe Continent show Fleurus
Ex 1 Speciale prijs en nominatie best in show


10-2-1019 Turnhout BCF show jury Elke Wijnants
Ex 1 en Beste Ere klasse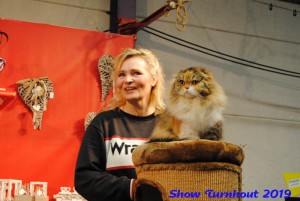 Winaar van de club match 2018 BCF Belgié

17-3-2019 Limbra cat club
Lilly kon zelf niet mee naar de show om haar
prijs in ontvangst te nemen ze is drachtig van
World Champion Shovilon Ypsylon.
Lilly behaalde de 1e prijs beste kat van 2018 Limbra cat

no images were found